Tibetan Pulsing Freshening Up & Polishing
Update 18 APRIL 22  Please find the dates and times for your time zone in the schedule

An online course for trained Tibetan Pulsers to refresh the vast background knowledge, deepen in its wisdom and share experiencing the pulse. 
Not trained (yet)? Go here and find out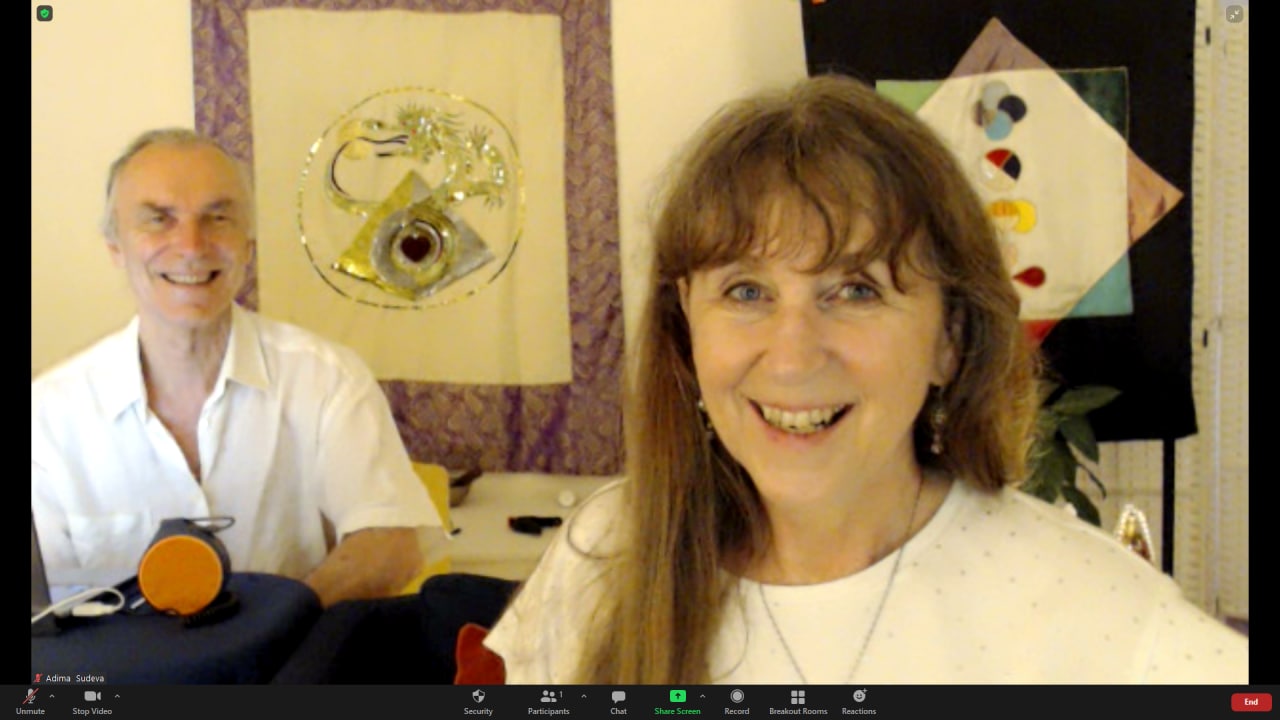 Our first Zoom Course for Pulsers started in October 2020.We were touched by the heart warming connection, really sharing the pulse in these online meetings. Over time the meetings developed their own dynamic. There's still academic teaching, yet more based in spontaneous questions and there's more interaction, in the form of personal and intimate sharing of pulsing experience. Click here for the first invitation letter, it contains interesting and entertaining bits.  


These Zoom Meetings are open to everyone who has completed an Intensive.
You can join anytime. Read below how to Register and LogIn

This is LIVE! There are no "online-replays" however there is and will be Study material (Videos) from the teaching course

DATES:

on the schedule page

TIMES: 
November - March:
6:00 Rio/10:00 London/11:00 Berlin/12:00 Moscow/17:00 Perth/18:00 Seoul/19:00 Sydney
April - October:
6:00 Rio/9:00 London/10:00 Berlin/12:00 Moscow/17:00 Perth/18:00 Seoul/20:00 Sydney  


REGISTRATION / SIGN-UP
online by Email or by Contact Form  - ONLY ONCE

a) Your legal name & Sannyas name / place (town) and country
b) The year and trainer(s) of your TIBETAN PULSING INTENSIVE
c) Your level of experience - for example: pulsing exchanges only; experienced assistant; professional experience (examples) - (it is not possible to sign up on social media)
BOOK & PAY

2) BOOK and secure your place with your payment.
    Please write the date/month of the course 

Prices are displayed on the bottom of the booking page


**************************************************************************************

TOPICS for 2021
Mainly we invite your questions and topics, related to your experience in working or exchanging. You can send them to u or simply share spontaneously in the meetings.

Some of the ever going interesting topics are:

Coming closer to and looking into your personal vocal tone (frequency)

Sharing your experience in playing with the tarot and the octaves of conscious evolution in 7 steps in daily life

How to approach/develop a session series for certain issues (for yourself exchanging or for your clients)

Support/preparation for working with people (sessions and/or events)

the Ethics and Aesthetics of working TO with people - how to publish and advertise etc.

"Entities" and how to deal with them

The purpose of the meetings is information and growth - that's another way of saying: celebrating each other's presence through the intelligence of the heart ... being connected in loving awareness 
---
STUDY MATERIAL
You can ask us for the Videos from the Teaching Course Oct-Dec 2020 when you
- have been a participant and/or
- are a qualified session giver / group leader working with TP 


---


OVERVIEW of the Course in 2020
this will be the beginning of Study Material


Oct 25 Nov 8 MODULE 1  (EUR 48 / AUD 78)
Basics of the spinal flow – In the eyes, in the THIS Thangka. The various ways of learning the "sequence"/spine by heart with visual aid from the THIS and the colour charts of the eyes.
The Major Arcana through the spine - how the "weaving loom" of the right eye prepares for the pattern of the "carpet" woven by the left eye.
Where to begin with "Reading"/ Tuning into one's own or another's nervous system

Nov 14 & 15  MODULE 2 & 3   (EUR 96 / AUD 156)
Deepening Eye Reading, both the eyes
These two days need to be booked together, since we will move freely between right and left eye, rather than "one day this, one day that"
Themes covered: The meaning and music of the Opposites (across the eye) / The Complementaries and the reverse Tarot Cards / The DC in the left eye / Fairy Wands / Pools and Jewels / Cramp Rings and Tests / Mudras, Instinctives and Smells / ... and you name it...! Exploring… and deepening as we go along. We appreciate eye photos from participants as demonstration material, with your consent.

Nov 29  MODULE 4  (EUR 48 / AUD 78)
'The Pyramid', the 'Holy Grail' and the Chieh-Chi Calendar
The relations between the Octaves of Sound and Consciousness in the Spine and the evolution of consciousness (the 7 steps) How the electrical flow expresses evolution and runs between organs.
Understanding and living the Calendar sunrise (mind) to sunset (emotion), through the darkest hour of the night (instincts) … between the solar/lunar influences … over the moon and in deep serenity listening to Mama Earth"s Heart beating within us.

Dec 5 EXTRA MODULE 
You can participate when you have done at least ONE of the other modules with us, preferably the eye-reading module 2&3.
More and varied approaches to Eye-reading. What's important. Understanding one's own and others eyes.
reduced special price for all - BOOK HERE

Dec 13 ROUNDING OFF Meeting (free and voluntary)
Feedback and sharing ... hearing about developments ... what's up next ...
NO NEED TO BOOK.
EVERYONE who has done at least ONE module of the course will get the Zoom link by Email.
Please come early! We open Zoom 25 mins prior to start time
RIO DeJ 6:00  / LONDON 9:00  / BERLIN 10:00  / MOSCOW 12:00  / PERTH 17:00 / TOKYO, SEOUL 18:00 / SYDNEY 20:00



---
below you find the invitation letter from the first course (Oct 2020) - it contains interesting and entertaining infos ... 
Dear Pulser Friends
We're excited and happy to invite you to
FRESHENING UP & POLISHING
A Multi Level Study Course for Tibetan Pulsers - ONLINE in ZOOM

WHAT IS THIS COURSE ABOUT
This online gathering is from the heart with the intention of deepening skills, learning and sharing. "Multi Level" refers to joining and serving various levels of experience and also expressing that with different kinds of tickets.
The course should help "downsize" and integrate all the information of the Tibetan Pulsing maps into a simple and workable approach to understanding one's own or another's nervous system more deeply through the pulse, in the eye-reading and in the sound resonance with mother Earth.
Above all we honour the different types of people we all are! – DCs  … Emos … Thinkers and Servers … and the different ways this wonderful work is spreading! 
It's our intent to support that to flower.

WHY DO THIS WITH US?
Someone younger said to us this year: "all you wise old guys who studied with Dheeraj are gonna die soon ... Why don't you bundle it up and share it all with us before it's lost?"

Some of us were born to read eyes and work with the complex maps of the nervous system ... others are great intuitive pulsers with less interest in finding words to explain the eye-map... there are so many ways of approaching and understanding... And ...  there is something about grasping the structure of this whole LIQUID SOUND SYSTEM PULSING MACHINE which is needful and helpful for everyone! We aim to contribute to that and to entertain you well! 

We may not have met with many of you in person, yet we are deeply connected with the Tibetan Pulsing Community and are in contact with friends, colleagues and clients all over the world. Over the past months we have been surprised and touched again and again by the silence and love which can flow in Zoom meetings. (We started online meetings for meditation and self-exploration a while ago.) These beautiful experiences gave birth to the idea of connecting our minds and hearts in an online study course for Pulsers and to teach, refresh and polish the elements of Tibetan Pulsing, which can open the gates for a deeper transmission to happen.

Over the past 20 years Pulsers spread all over the world and new people joined! We kept hearing about a need for more sharing and further support AFTER the training.
YES! - we couldn't have done without post training support!
In fact we each attended about a dozen Intensives! ... we trained and worked in Dheeraj's crew in Poona in the Intensives and all 'the Waves'; we sat in hundreds of eye readings, always learning something new … We both started our exploration with Dheeraj in 1988 ... and stayed closely attached with enthusiasm and determination during the "Poona years" of the Tibetan House and also later in Italy. Adima travelled with Dheeraj's Crew in Europe. We've experienced an unbelievable number of sessions and started running groups and
NM-Waves in the mid 90s. Adima trained people in the Intensive work.
This much for our so called "experience".

We are enthusiastic and riding the bliss waves of Pulsing just as gloriously as in the beginning - and perhaps a little bit wiser.
By the way: we're both "Yellows" - a Tongue and a Stomach - at home with precision, sensitivity and an ability to understand and combine the scientific and the intuitive.
In the world, in the stress of becoming something or having to make a buck, it can happen that the work "waters down" and becomes a bit "technical and mental."
Shortly before Dheeraj left us, he asked Adima in a private situation, to "protect my work and spread it in the way I want it spread".
Well, stating such a claim with no proof or witnesses may appear a little dubious - it is simply the truth. I (Adima) felt startled and overwhelmed by the request and at the time, was afraid that no-one will believe he'd asked (a typical tongue dilemma), so I kept rather quiet. I grew with it, failing and trying again to live up to the promise I gave. In my heart the love, the warmth and light around this "mission" grew into a delight of gratitude.

We remember and love to share some "extras" – the juicy stories Dheeraj shared with us, which are not all written down. We were lucky to be there at the time and we're even more lucky to STILL BE HERE NOW!
We received much and are happy to pass it on abundantly

Adima & Sudeva


---